Rajasthan Police Constable Mock Test Free Online Series 2019 in Hindi- (32)
If you are looking for complete mock test series for Rajasthan Police Constable for free?
Then you are at the right place.
We are at Fliqi very happy to help you the students who can't afford the paid test series. Most of the other websites give 1 sample test for free but here there is no hidden charges and the best part is in our test series is the quality of questions created by expert faculties of top institutions of India. Register now to start practising.
Rajasthan Police Constable Live Mock Test 12
Please login to see all mocktest
Login
About Rajasthan Police Constable
We hope you find our Rajasthan police constable mock test series helpful. If it is, then we request you to share it with your friends on Facebook, Whatsapp or Twitter.
We have launched the online video course for the preparation for the Rajasthan Police.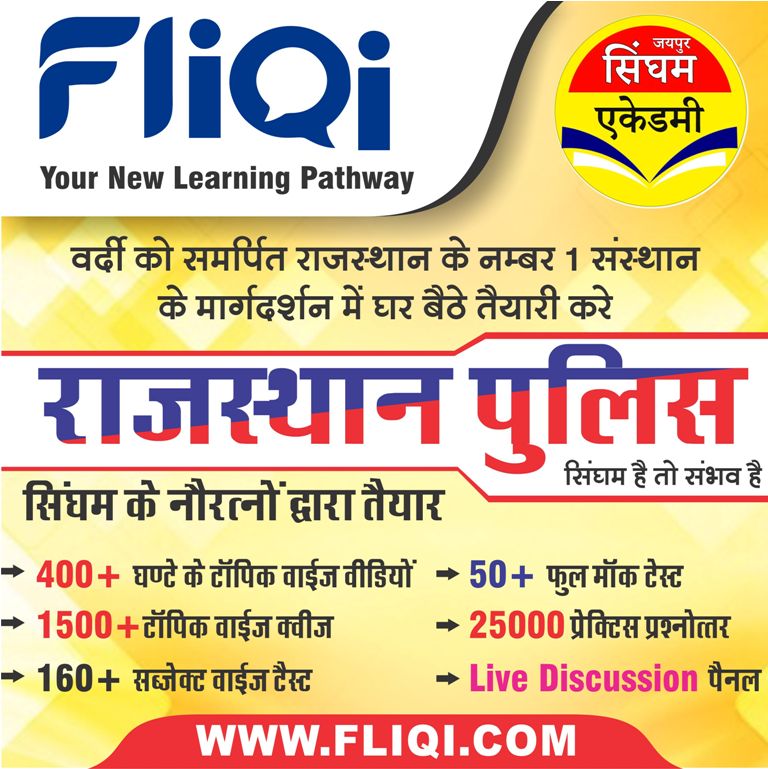 Click here to know more details and buy the course.
Here below we are giving some expert tips to crack the exam.
First, read the syllabus and latest exam pattern carefully. You can see it from the above tabs. After that, I will suggest you go through Good books or a proper video course. Fliqi has created a personalized video course for you which is not only Youtube video playlist but also an intelligent system which continuously track student preparation, check performance with chapter test after every topic video and also recommend you to improve your weak topics.
This course also come along with a test series including 20 full mock tests and also here 32 full-length tests are given extra. This test series will really help you in fastening your question-solving speed.
Here on the above tabs, previous year papers are also given. So now you are having everything so make study time table according to your comfort.
How to attempt the RAJASTHAN POLICE CONSTABLE Online Test?
1. The students have to register by entering all the details on the website or he/she may choose to register via Facebook or Google.
2. Right Now it is available only for Hindi medium students. Soon we will add in the English language also.
3. Click on start test. Understand the exam rule and timing properly and begin the test.
4. They should complete the process of submission of test
6. Now you can check the answer sheet and result from the left sidebar on the page.
Practice General Subject's Daily Free Mock Tests:-
Daily Current Affairs:- http://edu.fliqi.com/current-affairs
Daily Quiz:- http://edu.fliqi.com/quiz
Other Important Free Mock Test -
Other State Police Exam Mock Test :